North Anna nuclear reactor reaches full power again
Published: April 6, 2009
After being taken down for refueling, a nuclear reactor at Dominion Virginia Power's North Anna power plant in Louisa County has again reached 100 percent of generating capacity.
Figures provided by the U.S. Nuclear Regulatory Commission this morning showed that North Anna's Unit 1 is back at full power following a restart procedure that began late last week.
Unit 1 was shut down March 7 for its regular 18-month refueling, a process that included replacing one-third of its fuel, conducting a 10-year inspection of the reactor vessel, inspecting and cleaning steam generators inside the containment building and replacing one of the unit's two low-pressure turbines.
North Anna's Unit 2 operated at 100 percent of capacity throughout the Unit 1 shutdown.
http://www.timesdispatch.com/rtd/news/local/article/ANNAGAT06_20090406-072005/249818/
Tractor Trailer Catches on Fire in Louisa
April 6, 2009 11:52 PM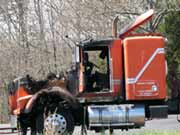 courtesy of Independent New

s

Part of Cross County Road (Route 522) in Louisa County was closed for more than two hours Monday morning after a tractor trailer caught on fire. The truck was carrying a load of materials containing nuclear substances from the North Anna Power Station to the Surrey plant.
North Anna Power Plant technicians inspected the material containers and determined all the content was secured. The cab of the tractor trailer, however, was destroyed in the blaze. The driver was not injured.
Another tractor was used to carry the materials to Surrey.